Central Ohio's Wood Reconditioning Experts!
Ohio Power Washing uses a three-step process to clean and restore outdoor wooden structures without using any high-pressure washing or harmful chemicals. We specialize in (Low Volume Low-Pressure Systems), used on redwood, pressure treated lumber, pine, mahogany, epi, and birch among others. We clean cedar siding, decks, log homes, cedar shakes, gazebos, fences, and docks. Our products are natural, organic, non-toxic, environmentally safe, and USDA approved. They are safe to use around children, pets, swimming pools, and plants.
The Ohio Power Washing wood care method brings wood back to its natural tones without damaging the surface.
We can make old dingy wood look new like the day it was installed. Gray and black stains vanish with our unique system.
FENCE AFTER WASHING:
FENCE AFTER STAINING: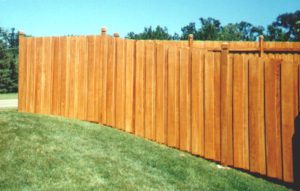 As you can see, we can clean and make anything shine. Please give Ohio Power Washing the opportunity to brighten your day and property.