Central Ohio's Deck Reconditioning Experts!
We can make old dingy wood look new like the day it was installed. Gray and black stains vanish with our unique system.
Few things are as beautiful as wood. Its color, grain and texture have long been praised. In the hands of craftsman and builders, this economical, durable and versatile building material has no equal when it comes to enhancing the appearance of our homes and yards. All exterior wood needs to be protected from rot, absorption, ultraviolet rays, moss, and mildew. If left untreated or neglected, the wood could deteriorate costing thousands of dollars in unnecessary damage. Because wood over time will rot through the natural aging process, we recommend that you use Professional Sealer for your deck and fence so that they will look brand new for many years to come. This will guarantee a longer life. The most important thing for any consumer to know is that deck restoration takes knowledge, skill, and experience to do the job correctly. The use of a power washer in inexperienced hands can cause un-repairable damage to pine pressure treated decks and even hard wood in a matter of seconds.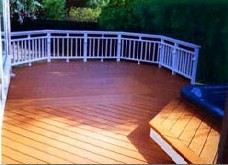 Our Process
Every deck and fence restoration job should start with a structural inspection, checking for exposed nails and screw heads, loose deck boards, rails, and steps. You'll find that simply resetting nails and screws will fix many problems. Occasionally, we might have to replace any boards that are rotting or split.
Cleaning Process
There are many methods of cleaning or stripping wood to the bare surface. Using a power washer equipped with a pressure control valve is the fastest and most economical way to strip and clean wood. After the initial inspection, we apply an environmentally safe cleaning agent on the wood surface. We let it work into the dirt, grime, and stains for about 15 minutes. Using a semi-coarse brush, we scrub the entire deck removing all stains, dirt, and debris. With just the right pressure, we power wash the surface of the wood to ensure a clean appearance.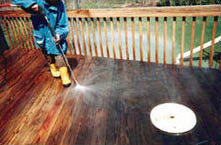 Stripping The Old Finish
To remove the old worn out finish, we use an exterior industrial wood stripper. This is a stain and sealer stripper that works best on oil-based and water-based finishes. It is used to remove heavy, full-color stain, either oil base or latex. Using a 2-gallon deck sprayer, we apply a liberal amount of stripper to the surface including rails and steps. After letting the stripper stand for approximately 20 minutes, we scrub the entire deck with a semi-coarse brush to lift the old finish. Using low pressure, we then rinse the surface of the wood several times. This process usually takes about 4 to 5 hours depending on the size of the deck and the condition of the wood.
Sealing And Staining
Preventing water from penetrating the wood surface can greatly extend the life of your deck, as well as add to the attractiveness. There are many products on the market for protecting exterior wood surfaces. We found, through many years of experience, that professional products are among the very best. Applying stain/sealer is like painting in most respects, but conditions need to be just right. We begin by masking off areas to be protected such as siding, concrete slabs, and door frames. We cover all landscaping and backyard furniture. We found that a good regulated airless paint sprayer works best for applying stain and sealers. After thoroughly mixing the sealer, we spray 3 thin coats to the wood surface going with the wood grain, allowing each coat to dry in between applications but not thoroughly. This method allows the stain to penetrate deep into the wood pores, cracks and between the boards. Using a soft brush, we back brush the entire deck to allow an even application of stain.
As you can see, we can clean and make anything shine. Please give Ohio Power Washing the opportunity to brighten your day and property.