Central Ohio's Stone Cleaning Experts!
We clean, re-sand and seal brick and Paver stones to restore their original look.
Benefits of Patio Restoration
Protect your Investment
Brick paver driveways and patio restoration are fantastic improvements to your home's beauty, but after time they will fade in color and become dingy looking, often having weeds and moss growing between the stones. This is nothing that can't be cleaned and restored like new with a patio restoration. Polymeric sand will stabilize the joints between stones hardening to keep growth down while staying flexible enough to move with a constant change in temperature and Ohio weather conditions. During your patio restoration, we will use Professional Grade Sealers to protect your brick pavers while improving the appearance and color contrast.
Benefits of sealing pavers include: minimize maintenance, prevent stains from oil, food and drink spillages, BBQ grease, dirt, fallen leaves and pet messes (If pavers are sealed, stains will remain on the sealant and not penetrate into the paver pores), slow the growth of moss or mildew in damp areas, reduce the rate of color fade, inhibit weed infestation and keep your pavers looking new for longer.
Patio Restoration Process
Our Perfected Multi-Step Patio Restoration Process
Cleaning – After applying a pre-cleaning agent to assist in removal of oil, food stains, ground-in dirt, and efflorescence a deck solution professional will clean your patio surface using a 3500 psi pressure washer with a whisper wash surface scrubbing machine. Ohio Power Washing will always take care to rinse the entire work area and make sure to leave the entire area clean before the next step of your patio restoration.

Polymeric Sand – Once the pavers have had time to dry we will begin to replace the sand with polymeric joint stabilizing sand. After all, the joints are thoroughly filled and the surface is brushed clean a light shower of water will harden the joints.

Application of Sealer – After ensuring the pavers are completely dry Ohio Power Washing will apply a liberal coat of sealer using a combination of rollers and airless sprayers.
We also clean concrete and asphalt, drives, patios, timber decking, tennis courts, and any other exterior hard surfaces.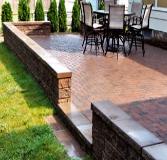 WALKWAY PAVERS: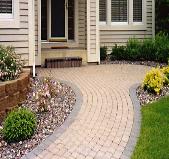 As you can see, we can clean and make anything shine. Please give Ohio Power Washing the opportunity to brighten your day and property.